New Patients at
Lundgren Chiropractic Center
Your First Visit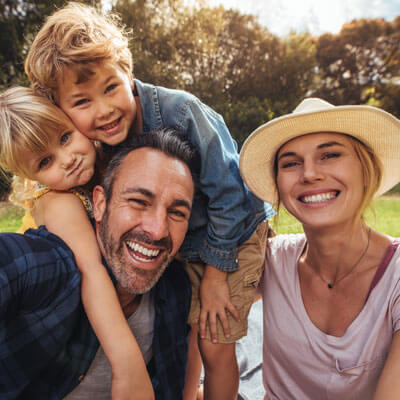 As you arrive, Eva will greet you and make sure you're ready for your appointment. You will probably have spoken with her on the phone when booking your appointment, and she'll remind you of a few key things:
You'll fill out our new patient forms.
Set aside about one hour for this initial appointment.
Feel free to wear whatever clothing you find most comfortable.
Bring along reports or test results from other providers, if you have them handy. These things may assist us in grasping the full scope of your condition.
Our doctors will listen to your concerns, assess your condition, and discuss their findings and their diagnosis with you. Throughout your visit, they encourage an open dialogue and are known for educating the patient at every step. Feel free to ask questions. Some we commonly answer are:
How long will I need to come in?
How much will this cost me?
Will chiropractic care really help me?
Our Doctors will adjust you, if possible, at this first visit. We use the Activator Method®, which you can read more about on our chiropractic care page. This method allows for fast relief with minimal discomfort.
My boss has been trying to get me to go to her chiropractor, Dr. Lundgren, for about 2 years now for my lower back and shoulder issues but I was skeptical of the practice. I've heard from some that it changed their life for the better and from others that it made their condition so much worse. I finally caved and asked my boss for the phone number and made my first appointment. read more from Keeley »

When I went in, Dr. Lundgren, made an effort to get to know me and the reason why I was seeing him, which put me at ease right away. He was very inviting and easy to talk to. Then he gave me a quick rundown of what chiropractors do and why it helps. I actually learned something new! When I got on the table, I was blown away by how explanatory he was as he adjusted. This not only made me feel more comfortable, but also helped me understand some of the processes. After, while I didn't feel immediate pain relief, I did feel different and looser. The next couple of days, I noticed that my back pain was a bit milder and that I wasn't experiencing as many spasms in my shoulder. I just had my second appointment today and am feeling pretty good. I guess you could say that I'm now a believer! I will definitely be returning for maintenance visits to see what Dr. Lundgren can truly do for me!

Keeley B.
NEW PATIENT APPOINTMENT TIMES
Our appointment times are:
9:30am and 3:00pm Monday, Tuesday, Wednesday, and Friday.
We look forward to seeing you soon!
Follow-Up Visits
Follow up visits are designed to assess how your chief complaint is resolving, and to deal with any other complaints.
Eva will meet with you privately to discuss your health history and the condition you're being treated for. She'll ensure our doctors receive the details they need to continue your care. We'll attempt to answer the following:
Are we moving ahead?
If not, what is the next step?
You can expect follow-up visits last around 15-20 minutes.
You may need only a couple of follow-up visits before you are well. If you do need more, rest assured we'll be working at each visit to move you quickly toward recovery.

New Patients at Lundgren Chiropractic Center | (505) 892-2222